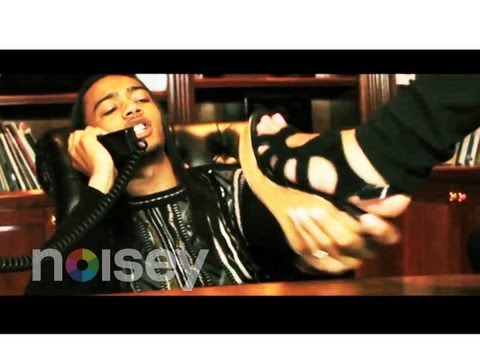 100s – Ice Cold Perm (2012)
Think about the last time you saw a black dude with a silky ass, laid ass perm. I'm not talking about a Danny Brown jumpoff, where dude got the perm, but let it get all wild and fucked up on some punk rap shit. I'm talking about a luscious perm, with a perfectly greased scalp. A perm that's meticulously set every night. A perm that never touches water, a perm maintained with the vigilance of my mom before a family function. Coming across a dude with hair like that is really rare, there's a level of commitment to the look and the statement that comes with it, that most dudes just can not pull off or sustain. That dude's entire wave reaches incalculable levels of not giving a fuck. Having a perm like that was in style in the 60s through early 80s, but now a "…I got a lil Indian in my family" perm is a symbol of defiance—or pimpdom.
Ice Cold Perm is 100s new album, and while the shit is heavy on pimp shit, it's even heavier on nonchalant defiance. The tracks are all kind of sparse, but bounce in the way west coast rap always should. If you don't wanna pay attention you could easily throw this on and just vibe, or if you want to get deep into the album you'd catch 100s languid flow and strong command of storytelling on tracks like "92 Gator". Dig a lil deeper and you find 100s has a surprising penchant for thematic songs with weird allusions. Catch homeboy referencing Will Ferrell's pimp turn in a forgettable cop flick and a real subtle shoutout to the ladies of House Party on "1999".
Either way, vibing to this album will have you feeling very relaxed but a lil defiant too. It's the feeling a dude that sits under a hair dryer while waiting for his girl to pick him up for his nail appointment knows too well. Some might scoff at the feminine pretty boy wave, but under the hum of the dryer dude can't even hear the haters. He's holding court on some modern day Versailles opulence shit. The powdered wig transformed into an ice cold perm.
RELATED:
WHAT DOES IT SOUND LIKE WHEN A PIMP CRIES
SERIOUS MUSIC FOR SENSUAL TIMES
Share this post on Facebook, my dude
Browse Timeline
Comments ( 3 )
Add a Comment