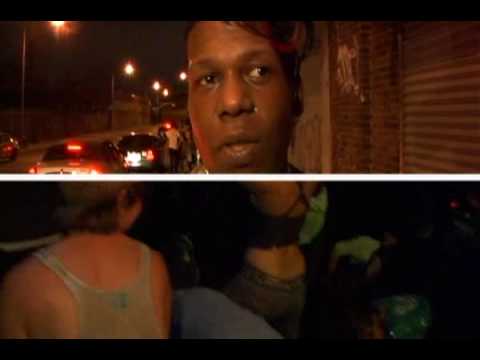 If you saw me the last week or so, or follow me on Twitter or whatever, you know that all I've been talking about are the Big Freedia shows that took place all over the city this week. Freedia is the "Queen Diva" of New Orleans bounce, a genre which to the unfamiliar, is a stylistic cousin to Detroit's GhettoTech, Chicago's Juke, Baltimore's Club Music and Miami's Booty Bass. Lots of call and response, uber fast bass heavy beats, 808 and 909 drum hits, sexually explicit lyrics and… oh yeah, ass shaking.
What sets Freedia apart from other bounce artists is that (s)he's the most famous of the subgenre of Sissy Bounce. Sissy Bounce being Bounce music from the New Orleans gay scene.  The lyrics are just as explicit as her straight counterparts and the asses shake just as hard, but the sass is turned way the fuck up. If Freedia was the captain of a medium to large yacht, it would be christened the U.S.S Sassy1.  Such sass and energy is what turned Glasslands into a sweaty dungeon of debaucherous dancing on a Tuesday night (pause for alliteration).  It was a testament to the power of Bounce and Freedia's performance that she had girls who looked like they just came from a Cure concert on stage, trying their best to demonstrate they indeed, had the "booty that makes the beat go BOOOM!".
Also, much respect for having the Jazz brass band open up for Freedia at the Saturday show, that was a really classy interlude between the Gucci Mane remixes and Big Freedia "The Dick Eata'".

BONUS!!!!
Dre Skull's Sissy Bounce Mix for your twerkin' practicing at home Download it here. (Right-Click and "Save As")
Audio clip: Adobe Flash Player (version 9 or above) is required to play this audio clip. Download the latest version here. You also need to have JavaScript enabled in your browser.
You Already knowwwww!!!
1 Mad points if you pickup that arcane Saturday Night Live reference. R.I.P Phil Hartman.
Share this post on Facebook, my dude
Browse Timeline
Comments ( 3 )
Add a Comment